Half of the murders in Turkey are Honor Killings. Honor Killings is done by muslims and is done because a daughter does something to disrespect her family's honor. In this case below, a daughter was simply speaking to boys. Do you think it's radical or moderate muslims that commit these crimes? Most likely both sides. Islam is a dangerous religion.
Robert Tait in Istanbul guardian.co.uk, Thursday 4 February 2010 19.03 GMT
Death reopens debate over 'honour' killings in Turkey, which account for half of all the country's murders.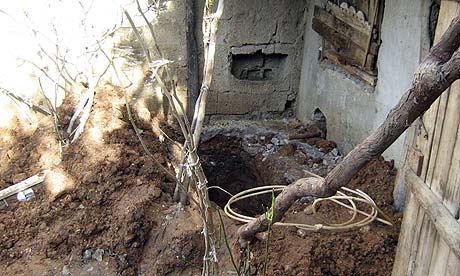 The hole where the girl was buried alive by her relatives.
Turkish police have recovered the body of a 16-year-old girl they say was buried alive by relatives in an "honor" killing carried out as punishment for talking to boys.
The girl, who has been identified only by the initials MM, was found in a sitting position with her hands tied, in a two-metre hole dug under a chicken pen outside her home in Kahta, in the south-eastern province of Adiyaman.
Police made the discovery in December after a tip-off from an informant, the Turkish newspaper Hurriyet reported on its website.
The girl had previously been reported missing.
The informant told the police she had been killed following a family "council" meeting.
Her father and grandfather are said to have been arrested and held in custody pending trial. It is unclear whether they have been charged. The girl's mother was arrested but was later released.
Media reports said the father had told relatives he was unhappy that his daughter – one of nine children – had male friends. The grandfather is said to have beaten her for having relations with the opposite sex.
A postmortem examination revealed large amounts of soil in her lungs and stomach, indicating that she had been alive and conscious while being buried. Her body showed no signs of bruising.
The discovery will reopen the emotive debate in Turkey about "honor" killings, which are particularly prevalent in the impoverished south-east.
Official figures have indicated that more than 200 such killings take place each year, accounting for around half of all murders in Turkey.